Invitation to subcontract for converting driving theory course materials to online self-study resources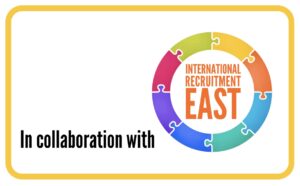 Eastern Region International Recruitment Adult Social Care Programme / EELGA Strategic Migration Partnership
Invitation to subcontract for converting driving theory course materials to online self-study resources
I.       Context and Purpose of Project
The Department of Health and Social Care (DHSC) has awarded the Eastern Region councils funding to help support international recruitment (IR) within the adult social care sector. The fund has been established to enable a support offer to be set up at a regional level which can be made available to all adult social care providers within the area in order to provide them with support for IR.
Services will be offered through partnerships which ensure the services offered are available to all adult social care providers within that area. The services offered through the partnership should aim to boost IR for the local area. The aim of the Delivery Grant Proposal is thus to demonstrate the promotion of collaborative arrangements which reduce administrative complexity and burden, particularly for small and medium sized enterprise IR providers. It is also to ensure that IR delivery is in line with the DHSC conditions of funding.
The Grant Agreement will enable International Recruitment (IR) delivery partners within a given area to develop shared solutions to local challenges and strengthen safeguards against exploitation.
The twelve councils in the Eastern Region will work as a partnership to manage this fund, administer grant agreements, monitor spend and ensure the successful delivery of projects and activities to improve successful IR across our region. Norfolk County Council is working as the lead authority for the purposes of receiving and administering the funding to delivery partners and reporting to Department of Health and Social Care on the spending and impact of the work. The delivery partners will cover a wide range of issues. These include:
Modern slavery,
Ethical recruitment,
Sponsorship management
Cultural orientation
Pastoral care
Startup grants for refugees
Support for driving in the UK (theory and practical)
Anti-discriminatory practices
Training needs analysis.
The Strategic Migration Partnership at the East of England Local Government Association will participate as a delivery partner to provide English for Speakers of Other Languages (ESOL) that relates directly to passing the UK driving theory test. Driving is a vital skill for those working in social care and domiciliary care in particular. Non-EU IRs (with the exception of those from countries or territories with exchange agreements with Great Britain) can drive on an international driving licence for one year but after that must pass the UK driving theory and practical tests to get a full UK driving licence.
The materials developed by the Wellbeing And Work for Refugee Integration project – WW4RI (https://smp.eelga.gov.uk/refugees/well-being-and-work-for-refugee-integration-project/ ) – will be adapted for use by IRs. Under the WW4RI project, the driving theory course was consistently the most popular of all of the ESOL courses available due to the importance of having a driving license for work and social needs in the East of England, which is characterised by infrequent public transport and remote and rural areas.
We are looking to award a tender for the adaptation of the classroom-based materials to a webinar plus online learning activities for self-study. We envisage the use of Google classroom or a similar learning management system, and the final product is likely to resemble other online interactive learning systems i.e. FutureLearn, Coursera.
II.       Bid Requirements
For the period covering October 2023 to March 2024, the activities that are within the scope of this tender include:
Review the classroom-based activities produced under WW4RI,
Review the safe driving for life website Safe Driving For Life | produced in partnership with DVSA,
Produce a strategy and delivery plan to develop and deliver a set of self-study materials using a learning management system (such as Google classroom) involving the webinar(s) and other activities,
Create the online interactive self-study materials,
Test the learning materials,
Host the learning materials on one or more websites (address(es) to be confirmed),
Ensure the site is accessible on mobile devices, tablets and laptops,
Provide reports on utilisation of the self-study materials, and
Issue and provide reports on feedback concerning the self-study materials.
Your bid must explain in detail the steps you will undertake to develop and implement a set of self-study resources that can be hosted on one or more websites for use by refugees and IRs. The bid must be accompanied by a detailed spreadsheet stating the costs incurred at each stage.
The maximum amount that can be awarded for these activities is £40,000 excluding VAT.
III.      Timing
Bidding closes: 15 September 2023
Interviews: week of 18 September 2023
Contract awarded: week of 25 September 2023
Contract delivery: October 2023 – March 2024
 IV.    Contract Management
The contract will be held and managed by the East of England Local Government Association (EELGA).
The organisation awarded the contract will be able to contact the WW4RI Project Officers as necessary and discuss any issues with them throughout the project.
V.      Data Protection
The organisation awarded the tender contract must be fully committed to comply with the data protection and privacy requirements of the IR ASC Eastern Region Programme as well as WW4RI, provide the secure transfer of any private information and produce all of the documents required by us, the SMP, and the funder, which is in the first instance Norfolk County Council and ultimately the Department of Health and Social Care (DHSC).
VI.     Payment
Applications are expected to be inclusive of all expenses, consultation and other costs (including VAT if applicable). EELGA will authorise payment, payable against invoices issued in arrears at stages to be agreed when the contract is awarded. All payments will be subject to satisfactory completion of various contract stages to be agreed; quality standards required by the project team; and delivery against the conditions of the terms of engagement agreed between EELGA and the appointed organisation.
Variations on terms of engagement will require negotiation and will need to be agreed in writing by both sides in advance if payment is not to be affected. Nothing in this briefing in any respect whatsoever constitutes a contract.
 VII.   Property and Contractual Conditions
The contract holder will be required to keep confidential and shall not (except as required by the terms of this brief) use or disclose any confidential information, records or other materials related to the work undertaken.
 VIII.  How to Tender
Sealed tenders supported by an email copy ([email protected], [email protected] and [email protected]) should be submitted by 17.00 hours on Friday, 15 September 2023 addressed to Louise Gooch, WW4RI Project Manager at East of England LGA, West Suffolk House, Western Way, Bury St Edmunds, Suffolk, IP33 3YU, and marked clearly as "IR Self-study Materials Tender". It will not be possible to accept email copies only. We will organise selection interviews with shortlisted applicants. These will take place over Microsoft Teams.
Those wishing to tender are required to submit the following information:
An explanation of how you expect to deliver the contract, using no more than two sides of A4 paper, adhering to the information provided above in the Bid Requirements section.
Information on the planned learning management system and how the learner would use the self-study materials (1 page of A4 paper).
A spreadsheet showing the activities your organisation will undertake as part of the work and the associated costings.
Relevant background information about your organisation's work
Evidence of knowledge and experience gained over the past 3 years that the nominated participants from your organisation have in relevant areas of work
Accounts for the last year (externally audited if you are a registered charity)
CVs for the nominated participants
2 references for your organisation
Any additional outputs proposed to those listed above
Any other supporting information that you may wish to include
For further information about this project and/or an informal discussion about this work please contact Peter Broomfield on 07866 955 005 email: [email protected].
IX.     Tender Scoring Matrix
Score /10 per section
| | |
| --- | --- |
| Demonstrates a good understanding of the ASC IR/WW4RI projects (ESOL Driving Theory). | |
| Demonstrates a good understanding of the steps required to convert the course from classroom-based to online self-study. | |
| Demonstrates previous projects and experience working on similar projects. | |
| Demonstrates that the organisation is able to comply with timetable, reporting and contractual arrangements. | |
| Demonstrates the necessary skills and references as an organisation. | |
| Demonstrates evidence for and past experience of creating elearning for speakers of other languages | |
| Demonstrates that identified participants have the necessary skills and experience. | |
| Provides a clear explanation as to how the conversion will be implemented, hosted and reported on. | |
| Demonstrates that the organisation has the necessary financial stability to deliver the contract. | |
| Demonstrates that the organisation has a good understanding of the East of England region. | |
| Demonstrates that the organisation provides additional outputs which add value to the project. | |
| Demonstrates a good fit with the organisational culture and working style of the WW4RI project and team. | |
| Demonstrates good value for money. | |
| Total /130 | |